---
Welcome to the New England Flute Institute!
LOCATIONS: SHARON, MA & QUINCY, MA USA
ONLINE LESSONS - WORLDWIDE
New England Flute Institute | NEFI nurtures musical development, performance skills and inspires artistic excellence in all our students - from beginners to emerging professionals - by offering well-rounded music education, access to learning resources and opportunities to work closely with some of today's leading Flute Artists.
At NEFI we are committed to excellence, nurture, building community and creating programs that celebrate each individual student.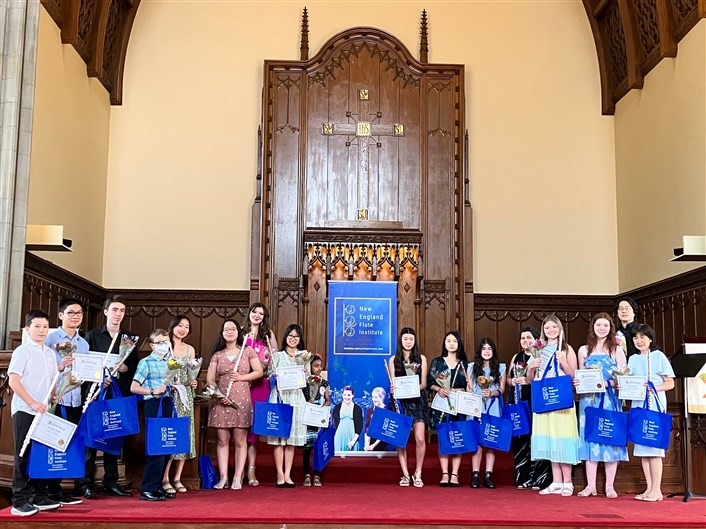 ---
NEFI PROGRAMS
🏆GOLD PROGRAM "RISING STAR"
🏆PLATINUM ACCELERATED PROGRAM "YOUNG ARTIST"
🏆ROSE GOLD ONLINE PROGRAM "ZOOMING INTO THE FLUTE"
🏆SILVER COACHING PROGRAM "À LA CARTE"
🏆SUMMER SESSION
🏆NEW ENGLAND CHAMBER MUSIC INSTITUTE
---
HIGHLIGHTS
♫ ENRICHED MUSIC CURRICULUM
The Academic year is structured and includes individual flute/recorder lessons, group lessons on music theory and history, ensembles and two recitals.
𝅘𝅥𝅯 MEMBERSHIP STRUCTURE
We offer membership programs, named after precious materials used in flute making, for any level and goal. Memberships reflect various goals and levels and based on flat monthly rates that allow to easily budget the lessons.
𝅗𝅥 FLEXIBILY FOR NEW STUDENTS
New students can take one trial lesson or try a special introductory offer of 5 lessons before committing to a long term.
♬ ONLINE LESSONS
Online learning offers flexibility and convenience to students worldwide.
𝅝 ALL LEVELS AND AGES
Children and adults of all levels are welcome to join NEFI!
♩ EXCITING OPPORTUNITIES
We offer a program for the adults coming back to flute playing after a long break.
♪ WORKING WITH ACCOMPANIST AND PERFORMING AT OUR FORMAL RECITALS
EVERY student gets to work with a professional pianist Miles Fellenberg, D.M.A. and perform at our beautiful, professionally organized recitals in some of the most beautiful venues of the Greater Boston
♫ CHAMBER MUSIC EXPERIENCE
EVERY student gets to play in ensembles
♪NEW ENGLAND CHAMBER MUSIC INSTITUTE
Intermediate and advanced students receive an invitation to participate in an additional special chamber music program. It is held once a month and receives additional performance opportunities such as chamber music recitals, local events and festivals.
♬ CHOOSING BEST TEACHER
Highest quality instruction - Ms. Berry, Doctor of Music Arts (D.M.A.) is a highly experienced flutist and teacher, offering exceptional private flute & recorder instruction to dedicated students in the South Shore area of Boston, MA
---
HOW TO JOIN NEFI
We are accepting registrations at the New England Flute Institute, conveniently located in the center of Sharon, MA. (towns - Sharon, Canton, Easton, Stoughton, Dedham, Norwood, Westwood, Randolph, Mansfield, Medfield, Wrentham, Holbrook, etc)
We also accept registrations at Yulia Berry's Flute Studio, our location in the center of Quincy, MA (towns - Braintree, Milton, Hingham, Hull, Abington, Weymouth).
For long distance students.
---


GROUP LESSONS:
RECITALS:


NEW ENGLAND CHAMBER MUSIC INSTITUTE: