PROGRAMS & CURRICULUM
We are offering a carefully crafted cirriculum of a well-rounded classical music education that allows to fill many gaps in the music growth of a student. The structure of an Academic year is carefully thought and tested for 25+ years of Yulia Berry's teaching experience. Besides developing fine flute skills, the students learn the fundamental concepts of music, including music theory, solfeggio, music history, learn about composers, their music and different styles, work on the rhythm development, get a valuable experience playing with a professional accompanist and in various ensembles, performing in many settings.
The dedication, enthusiasm, and experience Yulia Berry brings as a flute teacher allows her students to concentrate on more than just playing an instrument. Nurturing responsibility, encouraging patience and kindness, instilling musical sensitivity, and developing mind and listening skills are some of the special features of her teaching philosophy.
At NEFI we focus on developing strong fundamental flute skills, such as a diaphragm-based breathing, developing finger technique, ear training, working on tune, rich tone and vibrato. Ms.Berry has a lot of different exercises in her arsenal that will help to build these skills and draw on a variety of methods, depending on the individual interests and needs of the student.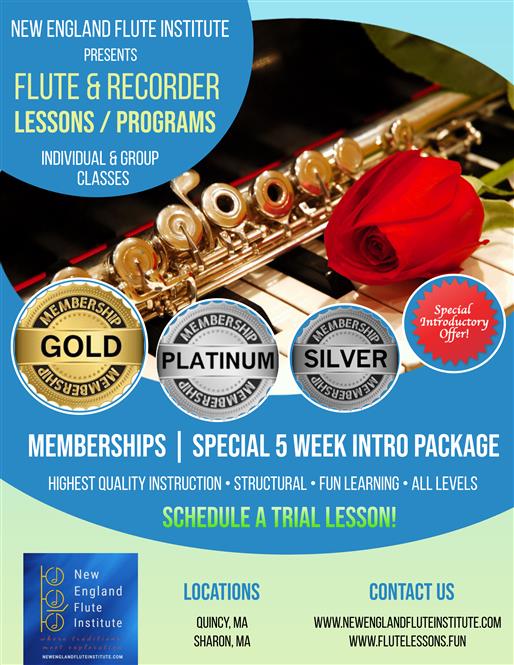 GOLD STANDARD PROGRAM
LEVELS: BEGINNER, INTERMEDIATE, ADVANCED
Weekly private lessons (following the NEFA calendar)
Included in lessons: Music Theory, Music History, Music Quizzes, Rhythm Developing Games, Ensembles, Incentives
2 professionally organized formal recitals (performance classes)
Preparation for recitals, performance management.
4 theme-based group lessons, scheduled throughout the year (Music History, Theory and Ensemble classes)
4 Summer lessons with a flexible schedule
Video lessons
Access to the NEFA Media Center
All books and materials included in your tuition
---
PLATINUM ACCELERATED PROGRAM
LEVELS: ADVANCED
All benefits of the Gold Standard Program
More performance opportunities
Preparation for auditions
1 individual webpage on the NEFI website for each "Rising Star" and promotion on social media, online, and locally
Live video masterclasses with International Flute Artists and teachers
SIGN UP (subject to approval)
---
ROSE GOLD ONLINE PROGRAM
LEVELS: INTERMEDIATE, ADVANCED
For distance students.
---
SILVER COACHING PROGRAM
ADULTS ONLY. LEVELS: INTERMEDIATE, ADVANCED
A La Carte lessons, flexible schedule
SIGN UP (subject to approval)
---
INTRODUCTORY PACKAGE (5 LESSONS OF 30, 45 or 60 MIN)
Eligibility: for new students only, one time only.
Commit to and pay for only 5 lessons.
---
WE WILL WORK ON:
Flute technique

Development of a beautiful, rich sound

Breath control with a diaphragmatic support

Developing controlled vibrato

Ear training, intonation

Music theory, expression marks, dynamics

Understanding musical phrases and forms, learning aesthetic interpretation and musical organization

Understanding complicated rhythms and time signatures

Sight reading

Learning effective practice strategies to maximize productivity

Building performance skills and overcoming performance anxiety, guidance through the entire performance preparation process, performance feedback through audio and video analysis

Music from the Baroque, Classical, Romantic, Impressionistic and Contemporary Periods

The importance of musicianship

Effective use of the musical body

Injury prevention (prevention of pain, tension, fatigue)

Correcting ANY problem with a body posture, hands and an embouchure

Discarding bad habits – musical, physical and mental

Weekly individualized feedback
---
RECITALS
We have at least 2 formal recitals each year (the dates are on the NEFI calendar). All students are encouraged to participate in these programs.
Recitals are major events in our course of music study. They provide a wonderful opportunity for developing poise and confidence, as well as being an important goal for polishing repertoire to high quality. They also serve as a valuable musical experience, listening to other flutists at various levels of study. Recitals are considered performance classes, for which there is no additional tuition charged. (These are "bonus" lessons!)
These events provide students with further incentive to practice and excel, and can have a positive effect on a student's sense of accomplishment. Recitals build confidence and reinforce the concept that good practice habits result in good flutists.
ACCOMPANIST
All students will be required to rehearse with our Accompanist and Performance Coach before a recital and every 8-10 weeks between (this applies to intermediate and advanced students only).
---
SCHEDULE
Music studies are available year round:
Academic year: September 1st through June 30th
Summer Session: July 1st through August 31st
The Academic Year consists of 40 teaching weeks and 2 recitals:
32 weeks of private instructions
4 theme-based group lessons scheduled throughout the year
2 Recitals (Performance classes)
4 Summer lessons
For students, enrolling after the start of the Academic year, the number of lessons in the sign up month will be prorated and a regular flat monthly payment will be scheduled, starting the following month.
Summer session- 4 Summer lessons are included in the tuition. Students can choose the dates of the lessons in the offered weeks.
After the registration, you will access the student portal with the calendar, showing all dates for the lessons, recitals and piano rehearsals for the whole year.
---